Located in Emei Township, Hsinchu County, Feng Tsai String Instrument School (風采製琴學校) is a rare business. Its founder, Yu Rong-hua (余榮華), is even more unusual. He is a musical instrument maker who can make violins, violas, cellos, double basses, mandolins and guitars, as well as bows and strings. In the 1990s, Yu taught violin-making overseas for many years in Southeast Asia, China, and even Australia and Sweden, but in 2010, he returned to his hometown Taiwan and in 2015 he established this musical instrument-making school in the Hakka township of Hsinchu. Tourists are welcome to visit and learn about Taiwan's unique instrument-making skills. Yu Rong-hua hopes to dedicate his skills and cultivate more instrument-making masters for Taiwan.



(All images: FTV)

After graduating from middle school, Yu went to work as an apprentice in a wood factory, learning woodworking and carving. Eight years later, because he liked string music, he began to study Western musical instruments. Since he could not afford the tuition in Europe, he learned everything by himself. Just making the strings took Yu Rong-hua four years of research, during which he tried all kinds of materials to make the strings he wanted.



The process of making a string instrument is complicated, and there are as many as 20 or 30 tools used, each of which has its own special function and is indispensable. The difficulty of obtaining special tools for making the instruments has always been a problem for Yu Rong-hua. Because Taiwan's instrument making industry is underdeveloped, many tools are not made in factories here and must be imported from abroad.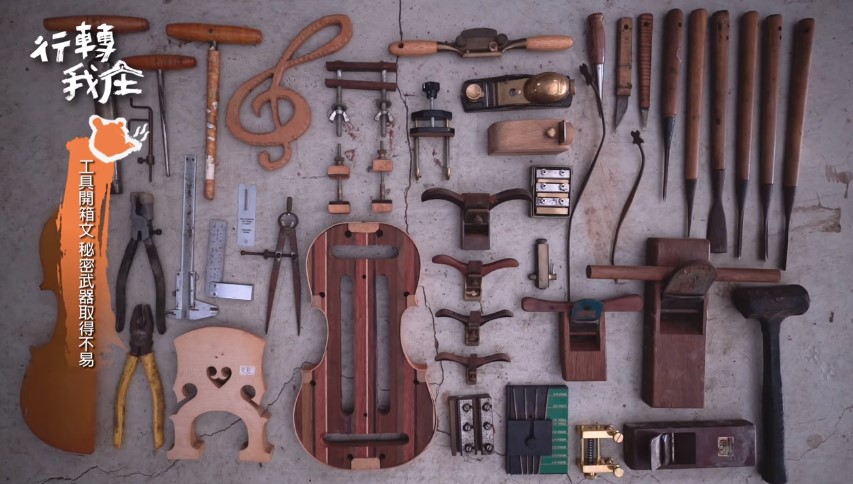 Not only is it not easy to obtain the tools for making instruments, in recent years, because of the prohibition against excessive deforestation in Southeast Asia, it's also difficult to obtain the maple and fir wood needed for making violins and other string instruments, so Yu began to experiment with driftwood and bamboo to make the instruments. Although the instruments made of these special materials cannot be played in formal performances, Yu used his creativity to exhibit these products in his studio.



In order to highlight the characteristics of his own brand, he engraves the butterfly logo symbolizing Taiwan on every instrument made by him. In 2010, Yu Rong-hua selected wood from five continents, including rosewood from South America, maple from North America, mahogany from Asia, red sandalwood from Europe, and black sandalwood from Africa and spent an entire year to make a 520-centimeter-long instrument that can be said to be the largest playable double bass in the world.



There are many people who learn to play instruments in Taiwan, but few who are willing to buy handmade instruments. Even so, Yu still hopes to develop the immature instrument-making industry in Taiwan. What he can do at present is to use his precious professional skills and pass them on to the next generation. Fortunately, his 19-year-old son is willing to take over his business. Yu also looks forward to cooperating with universities in the future to set up departments to cultivate more handmade instrument-making talents and jointly develop Taiwan's instrument-making industry.