Population imbalance is closely related to industrial decline. The crises of aging, declining birthrate, population exodus and industrial decline have played out in Dongpian Village (東片村) in Pingtung County's Neipu Township (內埔鄉), in the Liudui area of Hakka settlements in southern Taiwan. Hsu Jung-ming (徐榮銘) of Chuanyong Biotech Farm (川永生技農場) and Huang Jih-yang (黃日禓) of Dongbao Farm (東寶農場), who have promoted organic, eco-friendly industry and community building in the local area for a long time, brought together eight farms in Dongpian to form Taiwan's first rural social enterprise, Dongpian Gemstone Village, looking to establish a common brand, expand marketing channels, and raise farmers' income.

Dongpian has a population of just 1,045 people, of which seniors make up over 30%. Betel nut accounts for 80% of the village's crops. The heyday of betel nut in the 1980s brought prosperity to the area, but today the industry is gradually in decline.

A rural regeneration project in 2016 gave rise to local farmers setting up study groups where they shared their cultivation techniques, management ideas and brand marketing. From this basis, farmers went on to establish Dongpian Gemstone social enterprise. Moving away from small farmers going it alone as in the past, Gemstone Village has brought together eight organic, eco-friendly farms in Dongpian to create a common brand, not only to promote local agriculture but also to move into ecological tourism and market the area's attractions. The produce from the eight farms include pineapple, noni, cocoa, mulberry, dragon fruit and wax apple. The name Gemstone Village derives from the colors and varieties of these agricultural "gems" -- for example, fresh red dragon fruit as ruby, green noni as emerald, golden pineapple as topaz.
​
​
(Image: Hakka TV)

Huang Jih-yang says in the off-season they can open to agricultural experience eco-tourism and have already received many tour groups and groups of visitors. He admits that the early days of Gemstone Village were difficult, as not everyone necessarily bought in to the social enterprise idea. Of the village's 19 farms only eight were willing to join. But he still hopes other farms will join in the future, and that the betel nut fields can gradually change over to the cultivation of organic, eco-friendly fruit.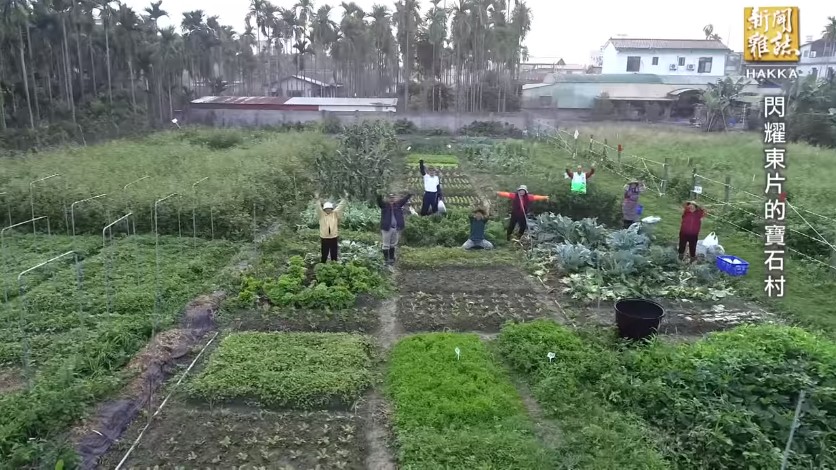 (Image: Hakka TV)

From the sales revenue of the Gemstone Village brand, 15% is set aside for giving back: 5% to the community, mainly for senior welfare; 5% to foster young guides and create employment opportunities so young people can return; and 5% for a company trading fund.

Dongpian Village has to confront the crises brought by aging and a declining birthrate and so there is a special focus on senior care. Five percent of Gemstone Village's revenue is used for a community care center which holds a community event every week to alleviate disability and dementia among seniors. There is a team that pays visits to lonely seniors and takes them to participate in activities. The direction for the future is a regional care center, starting from caring for local seniors and extending to other villages, which may also create local job opportunities.

Gemstone Village's social enterprise model didn't happen overnight. The way the villagers pull together has been built upon long years of community building and agricultural renewal. Gemstone Village CEO Huang Jih-yang says the most precious gems are the people who live there. Local regeneration should be something that local people willingly engage in together, for sharing, co-prosperity and coexistence.
(Image: Hakka TV)