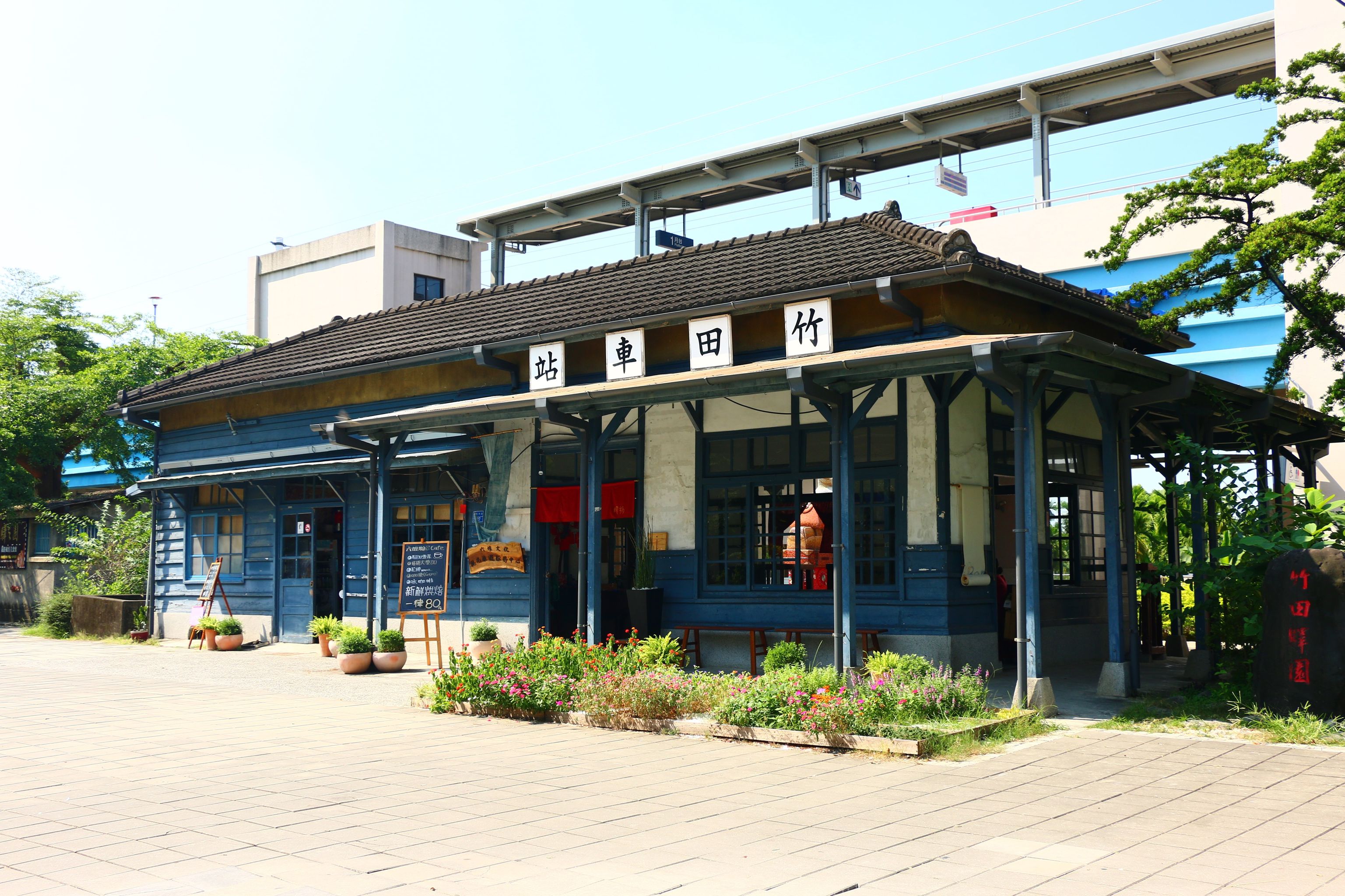 (Photo by陳永昌 @竹田驛園Facebook page)

Chinese name: 竹田驛站文化園區
Located at: Zhutian Township, Pingtung County

Zhutian Railway Station, located in Zhutian Township, Pingtung County, was first built in 1919. It was originally named Dunwuyi (頓物驛), which means a place to store goods in the Hakka language. It served as a distribution center for the rice of Hakka settlements in the Liudui area. In 1920, it was renamed Zhutian. In 1939, it was expanded into a Japanese-style traditional wooden train station. With more than 80 years of history, it is a historic railway station on the Pingtung Line of the Taiwan Railway Administration. The name of the line was planned as Fangliao Line during the Japanese occupation. Originally, there were Japanese-style wooden station buildings at Guilai Station (歸來站), Linluo Station (麟洛站), Xishi Station (西勢站), and Sankuaicuo Station (三塊厝站) on this railway line. However, the number of visitors to Guilai and Linluo has been dropping over the years, so the two stations have been downgraded to railway stops, and they only have a long platform. Sankuaicuo station was abandoned in 1986 and is currently used as a warehouse. The original wooden buildings of Xishi Station were rebuilt into cement structures, so only Zhutian Station is a wooden station on the Pingtung Line of Taiwan Railways that still retains its original style during Japanese rule.


(Photo by陳永昌 @竹田驛園Facebook page)

Originally to be demolished in 1995, Zhutian Station was later included in the government's new urban and rural landscape through the continuous efforts of government agencies, local people and a group of individuals who see the value of preserving relics of local culture. In view of the importance of retaining cultural assets, Zhutian Station was finally included in the government's redevelopment plans. Under the renovation plan for the station, repair works for the building was carried out. The simple appearance of the old station was retained, including its office, signal room, pantry, night room, storage space, wooden tables and chairs, wooden window ticket booths, timetables, and luggage parcel rooms. Its nostalgic style often attracts railway fans and tourists to visit and reminisce about their childhood. In the past, Zhutian Station had a public bath, an oil storage facility, and water well for Taiwan Railway employees to use. Today, they are still intact and stand in the original corner of the station.


Over the years, the old station has been integrated with the surrounding facilities and transformed into a cultural preservation park. Besides the wooden station, there is also a Japanese library called "Dr. Ikegami Ichiro Memorial Library (池上一郎博士文庫)", and "Mr. Li Hsiu-yun Photo Memorial Museum (李秀雲先生攝影紀念館)" which collects photos of Liudui Hakka people's rural culture, "Zhutian Cultural Center (竹田文化館)", and "Dexing Rice Mill (德興碾米廠)", an important cultural asset of the local agricultural era.


(Photo: CNA)

(Photo: 竹田驛園Facebook page)

The quaint style of Zhutian Station made it a popular recreational space in the railway park in the Pingtung area that combines art, history and nature. It is also a new attraction for Southern Taiwan's railway and Hakka cultural tourism.